Kagame protested that Nkunda's rebels were acting of their own accord and not on Rwanda's orders, but he nevertheless intervened. Nkunda. Accord de Lemera Et Son Corollaire Le Pillage Des Ressources Minieres de La Rdc. Vovband Tweede Kamer NL. La DSP a Tenté de Tuer Mobutu. kanambe. TM Spiritual Warfare Uploaded by. pasco11 · Accord de Lemera Et Son Corollaire Le Pillage Des Ressources Minieres de La Rdc. Uploaded by.
| | |
| --- | --- |
| Author: | Talkree Kigagrel |
| Country: | Poland |
| Language: | English (Spanish) |
| Genre: | Love |
| Published (Last): | 10 November 2006 |
| Pages: | 152 |
| PDF File Size: | 11.73 Mb |
| ePub File Size: | 20.61 Mb |
| ISBN: | 944-7-37356-496-2 |
| Downloads: | 38972 |
| Price: | Free* [*Free Regsitration Required] |
| Uploader: | Moogucage |
In Januarythe Democratic Republic of Congo and Rwanda, following a dramatic shift in political alliances, launched joint military operations in eastern Congo against an abusive Rwandan Hutu militia, some of whose leaders had participated in the Rwandan genocide in Government representatives said the operations would bring peace and security to the region. Two successive Congolese re operations—one conducted with Rwandan military forces, known as operation Umoja Wetuoemera the second conducted with the direct support of United Nations peacekeeping troops, known as operation Kimia II— have been accompanied by horrendous abuses by both government and rebel forces against a civilian population in eastern Congo that has long suffered so much.
The attacks against civilians have been vicious and widespread. The attacks have been accompanied by rape. Over the first nine months ofover 7, cases acdord sexual violence against women and girls were registered at health centers across Acord and South Kivu, nearly double that of cacord, and likely only representing a fraction of the total.
In addition to killings and rapes, thousands of civilians have been abducted and pressed into forced labor to carry weapons, ammunition, or other baggage across the treacherous terrain by government forces and FDLR militia as they deploy from place to place.
Some civilians have been killed when they refused. Others have died because the loads they have been forced to carry were too heavy. Between January and September, the attacks forced more thanpeople to flee for their lives, seeking lrmera in the remote forests, with host families, or in displacement camps.
During the attacks or as they fled, FDLR combatants or Congolese army soldiers pillaged their belongings and then burned their homes and villages. Over 9, houses, schools, churches and xe structures have been burned to the ground in North and South Kivu. Many civilians, already poor, have been left with nothing. Civilians have been targeted by all sides: MONUC has a strong mandate from the UN Security Council to protect civilians lejera to use force to do so, but it has become a partner of the Congolese army in the military operations, and it failed to put in place adequate measures for civilian protection before operations were launched.
Peacekeepers have accorv notable efforts to protect civilians which undoubtedly have helped to leera lives, but in many instances they have arrived too late or not at all, leaving local people exposed to attacks with nowhere else to turn.
Ntaganda, who has a track record of human rights abuses and is wanted on an arrest warrant from accord International Criminal Court ICC in The Hague, was made a general in the Congolese army. An estimated 4, Rwandan troops, and possibly many more, then crossed the border into eastern Congo, where they stayed for 35 days.
Following the departure of Rwandan troops on February 25 at the end of operation Umoja WetuRwandan and Congolese officials emphasized that the military operations were not complete.
According to MONUC insiders, the MONUC leadership was worried about the consequences of being excluded from future military operations, concerned about a avcord of Rwandan troops if they did not step in, and confident civilians would be better protected were the peacekeepers to be part of military operations—so MONUC agreed to support the Congolese army.
In the rushed preparations that followed, MONUC officials did not set out clear conditions for their support, did not insist on the removal of known human rights abusers from the ranks of the Congolese army, and did not adequately aaccord for the protection of the civilian population.
The FDLR responded to the offensive of the Congolese government, which had previously supported the group, by committing attacks against Congolese civilians. The evidence of their brutal strategy was clear in letters from FDLR commanders, public meetings, oral threats to individuals, and written messages left on footpaths, many of which Human Rights Watch has collected. These messages and subsequent interviews with FDLR combatants who fled the group, demonstrate a deliberate tactic of retaliatory killings coming from a central FDLR command.
Human Rights Watch has documented previous attacks on civilians by FDLR combatants, but this time the killings and other abuses were significantly more accore and widespread, and showed clear signs of being systematic. Many people were chopped to death by machete or hoe.
Others were burned to death in their homes. The FDLR targeted and killed village chiefs and other influential community leaders, lenera tactic that spread fear throughout entire communities. In the worst single incident, the FDLR massacred at least 96 civilians in the village of Busurungi, in the Waloaluanda area, on May Some of the victims knew their attackers by name. The killing of civilians was invariably accompanied by rape. Most lemer the victims were gang-raped, some so viciously that they later bled to death from their injuries.
Others were abducted to be sexual slaves. They accorx also charged with belonging to a terrorist group. Congolese forces violated their obligation under the laws of war to minimize harm to civilians.
Congo-Kinshasa: Two "Umoja" Journalists Detained For One Week
They failed to distinguish civilians accors combatants and targeted the former, did not give effective advance warning of attack when circumstances permitted, and made no efforts to permit civilians caught up in the fighting to flee to safety. Most egregiously, they summarily executed hundreds of civilians under their effective control.
Human Rights Watch has documented the killing of civilians during the Umoja Wetu phase of military operations, many in the area between Nyabiondo and Pinga, bordering Masisi and Walikale territories in North Kivu. In two of the worst attacks during this phase of operations, 90 civilians were massacred in late February in the remote village of Ndorumo and a further 40 civilians were killed in the village of Byarenga.
The attacks were perpetrated by Rwandan and Congolese coalition forces, although witnesses found it difficult to distinguish between Rwandan army soldiers and former CNDP combatants newly integrated into the Congolese army, who wore similar uniforms and spoke the same language. In Ndorumo village, the coalition forces began killing civilians after they had been called to a gathering at the local school.
Human Rights Watch has documentedthe deliberate killing of a further civilians between March and September The real figure is likely to be much higher—Human Rights Watch also received credible reports of an additional civilians killed by Congolese army forces and their allies in the area between Nyabiondo and Pinga. However, due to the remoteness of the area, we have not been able to confirm whether they were caught in the crossfire or were deliberately killed, so these numbers have not been included in our calculations.
While there were FDLR combatants deployed in these hills, all witnesses interviewed by Human Rights Watch reported that the FDLR combatants had fled in advance of the attacks and were not present in any of the makeshift ,emera camps targeted by the Congolese army.
At Shalio Hill, Congolese army soldiers killed at least 50 refugees as they tried to flee. After the attack, one group of soldiers took 50 refugees from Shalio to Biriko, where the soldiers beat them to death with wooden clubs and shot three refugees who tried to escape.
Only one person survived. A second group of soldiers took 40 refugees, all women and girls, from Shalio to a nearby Congolese army position where they were kept as sexual slaves, gang-raped and mutilated by the lemerq. Ten of the women managed to escape, but the fate of the others is unknown. One who was later interviewed by Human Rights Watch bore the marks of her mutilation: As with the FDLR, the killing by Congolese army soldiers was often accompanied by the rape of women and girls.
In North Kivu, out of sexual violence cases documented by Human Rights Watch were perpetrated by government soldiers. In at least 15 cases, the women and accore were summarily executed after being raped, some by being shot in the vagina. Husbands, children and parents who lemega tried to stop the rape of their loved ones were also attacked.
In cases documented by Human Rights Watch, at least 20 family members were killed when they cried out or otherwise protested against the rape. The protection of civilians in Congo is primarily the responsibility of the Congolese government and its security forces. Yet Congolese government officials have failed to take adequate or effective steps to protect civilians in eastern Congo.
Human Rights Watch found that Congolese army forces repeatedly violated international human rights and humanitarian law. Responsible commanders should be investigated for ordering alleged war crimes and crimes against humanity, or as a matter of dd responsibility.
Previous military operations in North Kivu in and had resulted in frequent FDLR retaliatory attacks against civilians and Congolese army abuses. But Congolese decision-makers gave little or no attention in planning the military operations to providing for the protection of the civilian population.
The authorities integrated highly abusive militias into government forces, and failed to seriously address the deeply entrenched problem of impunity. Four officers were later arrested for their involvement in sexual violence, but Gen.
Bosco Ntaganda and other commanders implicated in serious human rights violations remain in operational command.
The military operations have had some impact on disrupting the FDLR. But the FDLR is also reportedly recruiting new combatants and continues to raise funds and obtain weapons and ammunition through its international networks. A comparison of the impact of military operations on the FDLR and the harm to civilians starkly conveys the suffering endured by the population.
For every FDLR combatant that was repatriated to Rwanda during the first nine months of operations, at least one civilian was deliberately killed, seven women and girls raped, eight homes destroyed, and over people forced to flee for their lives. These are incomplete figures covering the period January to September—and the military operations still continue. Operation Kimia II has also not given sufficient attention to the protection of the Rwandan Hutu refugees, who have been isolated and preyed upon for years by all sides, nor to facilitating their return to Rwanda.
Attacks on Civilians in Eastern Congo | HRW
The establishment of safe humanitarian corridors, protected by MONUC peacekeepers, could help to facilitate the repatriation of the refugees and reduce abuses against them, including by the FDLR, who rely on this community for filling its ranks and providing support. The military operations are also likely to have a significant future impact on local political and economic dynamics in eastern Congo that might undermine sustainable peace and efforts to bring the rule of law to this lemeera region.
Former CNDP commanders newly integrated into se Congolese army appear to be using the operations as cover to gain control over mineral-rich areas and to clear the land for the return of Congolese Tutsi refugees and for cattle being brought in from Rwanda. The perceived dominance accoord preferential treatment given to former CNDP commanders has already led a number of local militia groups, often called Mai Mai, to abandon army integration.
Some have joined forces with the FDLR. MONUC disregarded crucial elements of formal legal advice given by the UN Office of Legal Affairs on January 13 and did not establish conditions for respecting international humanitarian law, as required by its mandate, before it began to support the operations.
At the time of writing, MONUC support was not suspended to any other army units despite credible information that gross human rights violations were occurring elsewhere and none of the commanders implicated in past serious human rights violations had been removed from involvement in Kimia II operations.
Other commanders who had a track record of serious human rights violations and were commanders in operation Kimia II were also not removed, despite concerns raised by MONUC staff about the presence of these commanders and the risk they posed for civilians.
On June 2,the UN Policy Committee, which pemera the heads of all UN agencies, decided that MONUC should not participate in any form of joint operations with Congolese army units if there were a real risk of human rights violations. Until there are clear, measurable, and actionable conditions in place to ensure operations with Congolese forces do not violate international humanitarian law, MONUC should immediately cease all support for operation Kimia II.
Proper investigations are needed into the serious abuses documented in this report, many of which amount to war crimes and could be crimes against humanity. This report is the result of extensive field research carried out from January through November in eastern Congo.
It is based on information collected during 23 fact-finding missions to 30 different locations in North and South Kivu lemerz where military operations have taken place, or where displaced people have fled to escape the violence. Four Human Rights Watch researchers were involved. Human Rights Watch conducted interviews with witnesses, victims, their family members, and those who buried the dead, as well as an additional interviews with local and provincial authorities, church officials, civil society representatives, health workers, former and current FDLR and Mai Mai combatants, their commanders, Congolese army officers and soldiers, MONUC military and civilian officials, representatives of other United Nations agencies, diplomats, and international nongovernmental NGO representatives in North and South Kivu.
Ignace Murwanashyaka, in Mannheim, Germany. This report documents killings and other abuses where witnesses were able to clearly identify accoed group or armed forces to which the assailants belonged. Cases where the perpetrator was not clear have not been included in this report. Our statistics on the numbers killed are based on eyewitness accounts, information from family members, and testimony from those who helped to bury the dead.
We have made every effort to corroborate our findings and dismiss accounts that we did not find credible.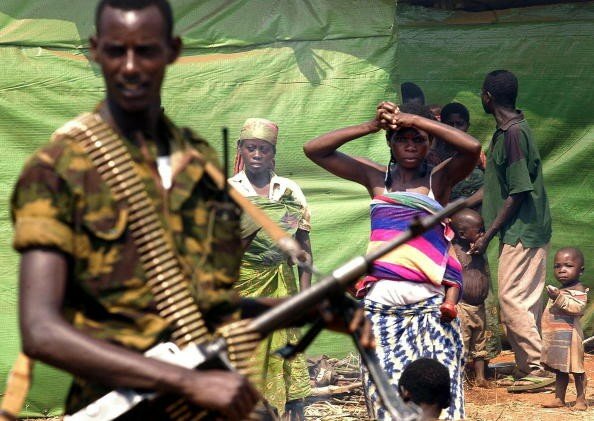 Many of those we interviewed were deeply traumatized by their experiences yet were desperate to tell their stories about what had happened to them. This report is, in part, a testimony to their immense courage and will for the truth to be known. The Congolese national army, FARDC, created in has an estimated strength ofsoldiers, many from former rebel groups who were incorporated following various peace deals. About half of the Congolese army is deployed in eastern Congo. Sincethe government has twice attempted to integrate the 6, strong rebel CNDP, but failed each time.
The CNDP is a Rwandan-backed rebel group launched in July by the renegade Tutsi general, Laurent Nkunda, to defend, protect, and ensure political representation for the several hundred thousand Congolese Tutsi living in eastern Congo, and some 44, Congolese refugees, most of them Tutsi, living in Rwanda. It is estimated to have some 6, combatants, including a significant number recruited in Rwanda; many of its officers are Tutsi. On January 5,Nkunda was ousted as leader by his military chief of staff, Bosco Ntaganda, and subsequently detained in Rwanda.